'The Squirrel Who Ate the Moon' is not an actual Lenape legend. There is a Native American story about a squirrel eating a solar eclipse, but it's not Lenape. So the tale Elijah tells is a bit of a pastiche of the Lenape creation myth and my own imagination, although all the names are in fact Lenape names. The photos included are of the December 21, 2010 lunar eclipse.
The small pinewood campfire didn't provide much warmth, but it didn't have to, for that wasn't its main purpose. He and Elijah were well bundled up against the cold, as any sensible Pineys out on such a night would be. But the flickering red-gold flames served another purpose, acting as a bulwark between Sean and things that went bump in the night - real things. He knew what lived in the forest, for he'd seen it with his own two eyes.
Still, it was foolish to feel uneasy, Sean thought. The full moon overhead was bright enough to dispel the darkness and shed a silvery radiance that transformed what could have been a menacing scene into one of pure fairy tale enchantment.
And of course there was the most enchanting sight of all, the prince of these fairy tale woods, who was resting warmly against Sean's side. His gaze strayed from the silvered bark of the pine trees and the sparkle like moon dust scattered over the sand of the clearing where they were camped, and came to rest on Elijah's face.
Elijah was gazing up at the sky, to the moon that would soon be obscured by the earth's shadow in a rare lunar eclipse. His flawless profile delicately etched and limned in silver and his skin turned cream and gold from the light of the fire gave him the appearance an old-fashioned cameo; while his absurdly long eyelashes actually cast moonshadows on his cheeks. Yet for all his seeming delicacy he possessed a coiled tensile strength ready to explode into action at any moment, and a limitless courage to go with it.
Yes, it was foolish to be afraid. The Woodjin could, and always would, protect his own.
Across the fire Maggie, the leaping flames reflected in her wide amber eyes, sprawled on her side in the sand, her bushy rust and black tail half covering Rocky, who slept curled up against her with his head tucked beneath his front paws. It was way past his bedtime, and normally he would have stayed home in his nesting box above their bed, but according to Elijah he'd wanted to come with them - though Elijah wouldn't tell Sean why. "You'll find out," was all he'd replied in answer to Sean's question.
"Rocky doesn't look like waking up any time soon," Sean now remarked. "He's out for the count."
Elijah kept his eyes fixed on the moon. "He'll wake up when it's time. In fact, all the squirrels in the pines will wake up. They won't want to miss this."
Sean didn't argue. If Elijah said Rocky and the other squirrels would wake up, wake up they would. Instead, he glanced at the luminous dial of his wrist watch, though the moon was so bright that he could read it easily without artificial illumination. "It's 1:25. Things should start getting underway soon."
And sure enough, a few minutes later Sean observed with a thrill a tiny sliver of moon disappearing from sight, as if it were indeed made of cheese and some industrious mouse was nibbling at it.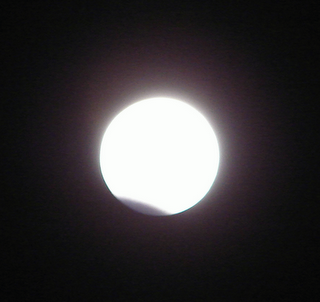 On cue, Rocky untucked his head and sat up, his beady eyes surprisingly bright and alert for one who normally was asleep at this late hour (and was never an early riser). Chattering softly to himself, he scurried around the fire to Sean, who automatically held out his right arm so the squirrel could climb to his usual perch on his shoulder. There Rocky assumed his coffee-pot pose with his tail draped across his back and then curled over like a handle, and took a firm hold of Sean's hair above his ear - though for a change he didn't yank on it.
Maggie rose, too, stretched her elegant black-and-rust legs one at a time with a flex of sharp-clawed paws, and went to Elijah, climbing delicately onto his lap. Fred, secure in Sean's coat pocket and warmly wrapped in a plaid fleece scarf against the cold that did not agree with a turtle's cold-blooded constitution, stuck his head out and blinked his round red eyes at the moon.
Sean heard faint rustlings in the trees around them - caused not by the wind this time, but by the wild squirrels who were emerging from their leafy drays in the boles of the trees to witness the eclipse. Though he could not see them, Sean sensed their presence.
He'd been a Piney long enough that he was attuned to the unique rhythms of the pines, but this was something entirely new and left him awed. He'd always loved the sense of community special moments like this engendered, the knowledge that all around the world others were witnessing the same wondrous event you were. But he'd never imagined that community including squirrels!
He was burning with curiosity to know just why watching the eclipse was so important to them, but there was no point to asking. Elijah would tell him in his own good time. A Piney couldn't be rushed.
Sean picked up the binoculars resting in his lap and raised them to his eyes. A soft gasp escaped him as the full impact of the unfolding drama became apparent in the details the high-powered lenses revealed. He half-wished they'd brought the telescope with them, but lugging it this deep into the woods would have been difficult, and where Elijah had led them no four-wheel drive could go.
"Take a look," he said to Elijah, offering him the binoculars.
Elijah set them to his eyes and fiddled with the focus knob. "Gollykeeper," he exclaimed. His hand shot out and gripped Sean's forearm. "Oh Sean, look at that. Just look at it."