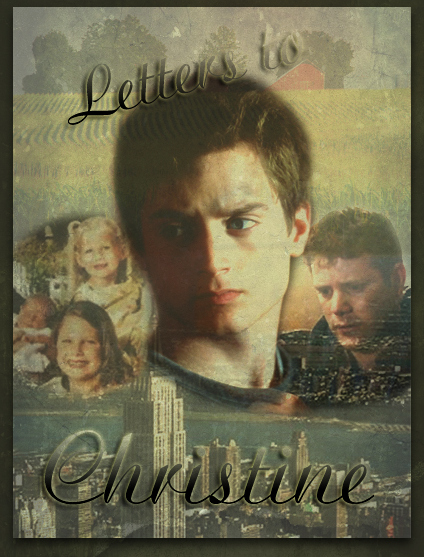 Letters to Christine is an alternate universe story in which Sean is a grieving widower with three children who meets Elijah, a young man on the run from his past, and offers him first a place to stay, then a home and finally his heart. The first part of this story was written for the 2007 Sean/Elijah Christmas Extravaganza. For some time, I had a persistent image of a despairing Sean going into a church- why, I had no idea, all I knew was that he was facing a crisis of some sort. Then I saw this Youtube video. And that became the jumping off point for this fic. The story unfolds over the course of a year, with letters written in conjunction with holidays or other special occasions. Please note that this is a work in progress.

This fic contains high levels of angst, but will absolutely have a happy ending. The rating is up to Adult.

Letter 1: Christmas Eve. Sean writes a letter to Christine.
Letter 2: New Year's Day.

Sean goes to a New Year's Eve party.

Letter 3: Valentine's Day.

Sean goes on a date, and Elijah begins to reveal some parts of his past.

Letter 4: Sean's Birthday.

On Sean's birthday, the greatest gift he receives is love.

Letter 5: St. Patrick's Day.

Sean and Elijah go to an Irish pub. HEAVY ANGST WARNING FOR THIS CHAPTER.

Letter 6: April Fool's Day.

Elijah spends the night away from home, and Sean tries to come to terms with his feelings about it.

Letter 7: May Day.

Elijah takes his GED tests, necessitating an overnight trip to Bloomington for him and Sean.

Letter 8: Memorial Day.

A backyard barbecue leads to some unsettling revelations.

Letter 9: Wedding Anniversary.

On his wedding anniversary, Sean visits Chris's grave with Elijah.

Letter 10: Fourth of July. Sean discovers the truth of his feelings for Elijah.
Letter 11: Isabella's Birthday. Sean finally remembers what happened on New Year's Eve, with dire consequences for Elijah.
Letter 12: Labor Day. Sean struggles with his emotions in the aftermath of Elijah's departure.
Letter 13: Anniversary of Christine's Death. An unexpected encounter in the cemetery tests Sean.

NEW!

Letter 14: Thanksgiving. The day before Thanksgiving, Sean and his family are forced to face their deepest fear.

Letter 15 (the last letter): Christmas Day
Letters to Christine includes a number of inset fics that fall between the letters and show other points of view, mainly Elijah's, but also Sean, Billy and Mack's. They are listed in order below by how they fall in the timeline. (Some of the formatting on these is messed up; I'm aware and working to fix the glitches!)
The Offering: Elijah's POV of the scene from Letter 2 where Sean breaks down after the New Year's Eve Party. Words: 200.
The Palm Reader: Elijah was afraid of what the lines in his palm might reveal. Elijah's POV. Words: 200.
A Good Wish: Sean and the girls surprise Elijah with a birthday party. Elijah's POV. Set between letters 6 & 7. Words: 1057.
Pearls on a String: Elijah has an embarrassment of riches to treasure after the trip to Bloomington. Set immediately after letter 7. Elijah's POV. Words: 2379
Romantic at Heart: Every romantic secretly dreams of a happy ending. Elijah's POV. Set between letters 7 & 8. Rating: Adult. Words: 801.
Forever Home: Sean, Elijah and the girls go to the animal shelter to adopt a kitten. Elijah's POV. Set between letters 7 & 8. Words: 6082.
Father's Day: It's Father's Day and Elijah discovers what he really means to Sean's daughters. Elijah's POV. Set between letters 9 & 10. Words: 1751.
Road Trip: The family goes on a road trip to a water park. Elijah's POV. Words: 3599.
Thief in the Night: Sean watches Elijah as he sleeps. Sean's POV. Words: 391.
The Crucible: Sean is tested in a different way. Sean's POV. Set between letters 10 & 11. Words: 100.
The Heart's Whisper: It isn't until later that Sean listens to the whisper of his heart. Sean's POV. Set between letters 10 & 11. Words: 266.
The Exile: Elijah is exiled from those he loves. Elijah's POV. Set immediately after letter 11. High angst content. Words: 697.
What Love Bears: Billy isn't too proud to pick up the pieces. Billy's POV. Set after letter 11. Words: 2060.
The House Sitter: Elijah house sits while Sean and the girls are away. Elijah's POV. Set after 'What Love Bears'. Words: 3970.
Ships in the Night: How Sean and Elijah spend their days. Words: 300.
Full Circle: Elijah joins Sean and his family in the church for Christine's memorial service. Words: 2434

The Right Thing: Sometimes doing the right thing is the hardest thing. Elijah's POV. Set immediately after letter 13. Words: 500.
A Perfect Day: Elijah wants his first real Thanksgiving to be perfect. Elijah's POV. Set immediately after letter 14. Words: 4317.

NEW!

The Search: Elijah's POV. Immediately precedes letter 15. Words: 3085.