"If you have ever seen a dragon in a pinch, you will realize that this was only poetical exaggeration applied to any hobbit, even to Old Took's great-granduncle Bullroarer, who was so huge (for a hobbit) that he could ride a horse. He charged the ranks of the goblins of Mount Gram in the Battle of the Green Fields, and knocked their king Golfimbul's head clean off with a wooden club. It sailed a hundred yards through the air and went down a rabbit-hole, and in this way the battle was won and the game of Golf invented at the same moment." The Hobbit
That almost seems like a throwaway bit by Tolkien, since no more is ever heard of Golf, but it intrigued me and inspired this story, one of my favorites. I am not a golfer, so any errors will I hope be forgiven. I relied heavily on my dad (who is a passionate devotee of golf and little knew to what end I was asking him so many questions!) and a wonderful reference book entitled, The Historical Dictionary of Golfing Terms: from 1500 to the Present. All the odd words and phrases for the equipment, etc. are in fact actual ones that were used at some point in golfing history. Many of the golfing conventions we take for granted today (such as eighteen-hole golf courses) did not exist originally, so I felt free to make the Hobbiton links a twelve-hole course, for example. Match play was the rule, and courses were often played backward and forward, so that the same green was used both for teeing off and putting out.
Story illustrations by Aina Baggins.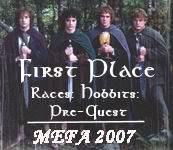 I am very proud that Golfing Fever won first place in its category in the 2007 Middle-earth Fanfiction Awards.
Golfing Fever
Chapter 1:

Duffer-

an unskillful golfer
Chapter 2:

Scrambler-

a player who plays some erratic golf but can achieve good results by bold recovery play
Chapter 3:

Misread-

to read (a green or putt) wrongly
Chapter 4:

Crack-

first class or champion golfer
Chapter 5:

Twosome-

A pair of golfers playing together in a stroke competition
Additional Stories in the Golfing Fever Verse
Frodo's Compelling Dream: Frodo has one of those compelling dreams. Gap filler for Chapter 2. Romantic Comedy. Rating: Teen. Words: 500.
Stymied: The most talented natural golfer in the history of the Shire can't be stymied. Romantic Comedy. Rating: Teen. Words: 1085.
Tyger's Return: After their return from the Quest, Sam convinces a doubtful Frodo to try playing Golf again. Romance, Drama, Golf. Rating: Teen. Words: 1663.