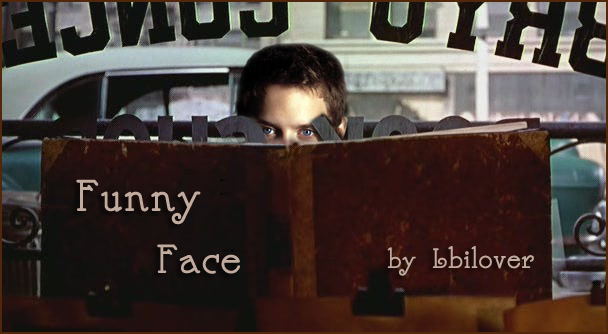 This story is based on one of my all-time favorite Fred Astaire movies, Funny Face, which costarred the luminous Audrey Hepburn (as Fred's love interest) and the oh-so-wonderful Kay Thompson, cabaret performer and author of the Heloise books, in her one and only, totally smashing, scene-stealing movie appearance. Please note that some of the dialogue (especially early on) is lifted directly from the movie, with slight modifications here and there. Also, while the movie was made in 1957, I have set it in the present day. Fred's character in the movie was based on the famous photographer Richard Avedon, who did the still photography for the movie.
Chapter 1

: Searching for a 'movingly dismal' place to do a fashion shoot, Cate Blanchett and Co. of Quality Magazine invade the highbrow bookstore 'Embryo Concepts' over the vociferous objections of clerk Elijah Wood. Elijah, a devotee of the Empathicalist philosopher Viggo Mortensen, is appalled by their frivolity - but also intrigued, especially by the photographer, Sean Astin. Rating: Teen.



Chapter 2: Fate (or is it Cate?) brings our two heroes together again. Rating: Teen.
Chapter 3:

Elijah doesn't show up at Ian McKellen's Paris

salon

and Sean sets out to find him. Rating: Teen.

Chapter 4: Ian McKellen works his magic on the Quality Man, and Sean and Elijah do their first photo shoot. Rating: Teen.
Chapter 5: The photo shoots continue, and at their end Sean makes a startling discovery. Rating: Teen.
Chapter 6: Paris loves lovers. :-) Rating: Adult.
Chapter 7: The course of true love never did run smooth, alas. Rating: Teen.
Chapter 8: Sean and Cate run Elijah to earth at Professor Mortensen's home. Epic fail? You decide. Rating: Teen.
Chapter 9: Elijah shows up at the salon to show the collection only to discover Sean has left for New York. Rating: Teen.