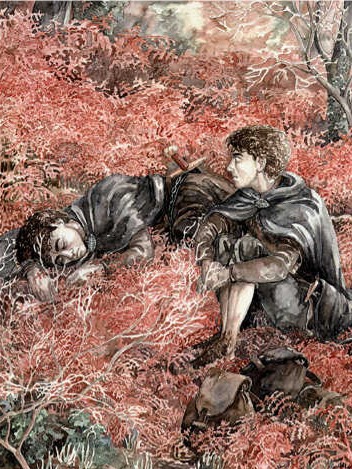 In the Grey Twilight by Heidi Gamgee.
ItGT has to be the first rec I make, as it was the first Frodo/Sam story I ever read. Indeed, it was the first slash story I ever read, and so it is very special to me. Over the years, I've re-read the story many times and it does, thankfully, hold up beautifully to multiple readings.
The fic is set post-Quest, and deals with Frodo's realisation that he is deeply in love with Sam and with his struggle to keep his feelings hidden. Sam meanwhile is married to Rosie, but is clearly struggling himself with balancing marriage and his commitment to Frodo. The writing is beautiful, the emotions heartfelt. There is a great well of tenderness underlying ItGT, tenderness between Frodo and Sam, between Frodo and his cousins, and clearly in how the author feels about the characters. Heidi Gamgee's Rosie might not appeal to everyone, but she is less a shrew than a woman caught in a situation she can't quite understand, because the experiences Frodo and Sam shared on the Quest are beyond her ken. Without spoiling the ending, I will say that I found it deeply satisfying.
Here is a favorite quote from the story: His feelings for Sam took on a fever pitch most of the time, whirling in unending confusion and conflict. Sam filled too many roles in Frodo's life, obscuring any solid truth of their relation. How could he describe a friendship that had gone to the very end of the world? How could he name a love that carried the weight of Middle-earth on its shoulders? He had been presumptuous, he thought they'd crossed irrevocably over the line, leaving plain friendship behind in the waters of the River Anduin. How could two people ever separate after such an ordeal? Why did they have to grow used to sleeping alone again, when the close entanglement of their limbs had been natural, accepted, and desired?