Originally written for the 2015 Tol Eressea 'Playlist of Love' celebration.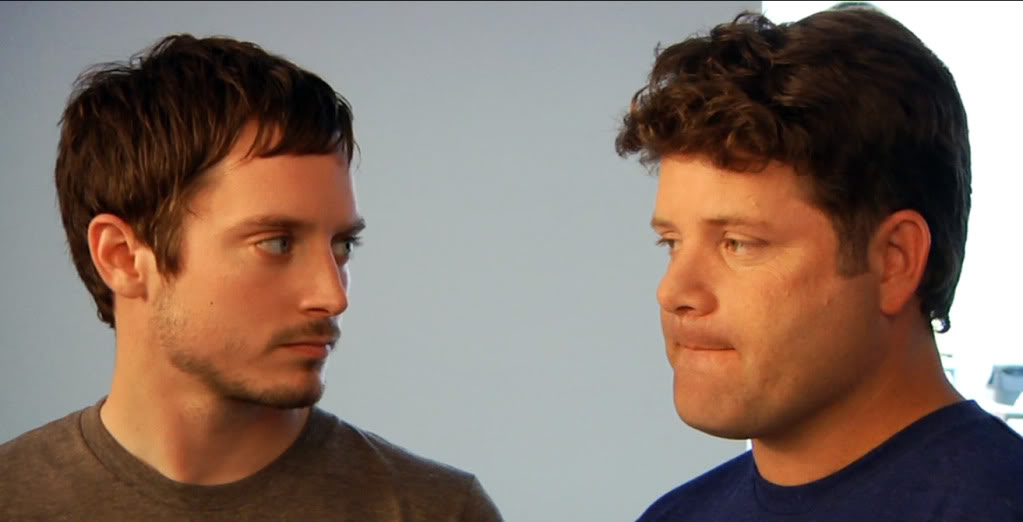 One of Sean's most vivid memories of New Zealand was the day that Elijah dragged him off to a music store in downtown Wellington.
"I'm gonna educate you about music, Sean Astin," Elijah had told him. "Your taste sucks."
Sean hadn't taken offense. He knew how passionate Elijah was on the topic. His own tastes were pretty catholic, if uneducated, so it wasn't likely that he'd hate anything Elijah wanted him to listen to. More importantly, it meant that he and Elijah would get to spend time alone together. Just the two of them, no costars, no Peter, no family.
Inwardly, he squirmed at that last admission. He wondered if the outing meant as much to Elijah as it did to him, decided that was folly. Elijah would happily invite a stranger off the street into a music store if it meant he could share his favorite bands and tracks with them. It didn't mean anything.
As soon as they were inside, Elijah started filling Sean's shopping basket with CDs from artists with names like Weezer and Bjork. Sean couldn't keep track, even though Elijah, the walking, talking rock encyclopedia, explained the importance of each and every one.
"This is The Man Who by a Scottish band called Travis," he said, showing Sean a CD with a photo of four men standing in a bleak snow-covered field. "It's their second studio album and it's brilliant." He hesitated. "There's a song on here that reminds me of you, Sean," he went on, tapping the plastic case almost nervously against the palm of his hand. "It's called 'Driftwood'. I want you to listen to it first, before anything else, okay?"
"Okay," Sean said, taking the CD from Elijah and dropping it in the basket. He was curious to hear the song, and wondered what it was about it that reminded Elijah of him.
Sean's basket was almost overflowing when Elijah was finally done and they went to the checkout counter. As the counter clerk started to ring them up, Elijah said guiltily, "Jesus, I didn't realize how much this would cost. You honestly don't have to take them all, Sean."
Sean just smiled and handed over his credit card. "I don't mind, Lighe. It'll be great to have new music to listen to, especially when I get home and can finally start running again." He was surprised when Elijah's face fell. "What's wrong?"
"I don't like it when you talk about going home. It sounds so final."
"Nothing lasts forever, Elijah." Sean spoke gently, but still felt like he'd kicked a puppy.
"Of course not. You're right." But the smile pinned to Elijah's face was patently fake.
~*~
Sean did listen to 'Driftwood' before any other song, and he was blown away by it. The lyrics seemed to encapsulate his experience in New Zealand, all the uncertainty and longing and the sense of drifting, unmoored from the familiar. Even more, he was blown away by Elijah's insightfulness. No one, not even Chris, saw into Sean's heart and mind and understood the complexity of his emotions the way Elijah did.
Everywhere there's trouble
Nowhere's safe to go
Pushes turn to shovels
Shovelling the snow
Frozen you have chosen
The path you wish to go
Drifting now forever
And forever more
Until you reach your shore
When the journey was at last over in truth and Sean returned home, that one song remained stubbornly on his iPod when the others gradually fell by the wayside, making room for newer songs. Sometimes, when he was running tired and sore, Sean put the song on repeat, and soon enough the miles were flying past beneath his running shoes as if he were an Elvish boat on a swift-flowing river. He told himself that it was because the beat was perfect to run to, and he almost believed it. He'd grown so expert at lying to himself.
But the truth was that it sent him straight back to New Zealand, to that record store, to Elijah, whose image accompanied every stride, giving strength to his weary muscles and the will to struggle on. Deep in his heart Sean understood that returning home didn't mean he was home. He was still that driftwood, trying to find the shore.
~*~
Denial became habitual, ingrained. It needed something powerful to shake it loose, and that came when he appeared with Elijah at a fan convention in Dallas. It was their first appearance together in what seemed forever, but within minutes of seeing him again the years melted away and the mantle of self-deception with it.
It had to end, Sean realized as they settled behind a long table for a Q&A with their fans, the bullshit, the lies. He had to come clean to Elijah about his feelings. But what about Elijah, sitting in his chair a few feet away, so changed but so very much still the young man with whom, Sean now admitted, he'd fallen hopelessly, eternally in love? What was he feeling? Sean couldn't tell, but he desperately wanted, no needed, to know.
A line from the song Driftwood popped into his mind: But it really is the end of the line.
Sean took it as a sign when a young woman asked Elijah about his favorite music. Watching Elijah's face light up with the same youthful passion that it had worn that long ago day in a record store in Wellington, a pang of love smote Sean's heart that was almost painful.
"I can't remember anything," Sean joked to the crowd, after Elijah reeled off a list of some of the rarities in his personal music collection in answer to the girl's question. But it wasn't true. He remembered that day in the record store. He remembered telling Elijah that nothing lasted forever. He remembered the hurt in Elijah's eyes and he wanted to take it away, tell Elijah that some things, like his love, did last forever - even if it took him ten years to figure it out.
And it hit him how he could do that, right there and then, in front of a packed audience. He turned fully toward Elijah, not caring what anyone thought of his body language. "There's one song that's on my playlist that you turned me onto, and every time I run, I'm, like, right back in New Zealand and you handing it to me. 'Driftwood.'"
Elijah knew, immediately he knew. Not just the song, but the significance. He was staring at Sean so hard, blue eyes boring into him like lasers, searching for the truth. Sean opened his heart, wide open, and let him find it.
"Thanks, man," he ended their exchange, always going for the self-deprecation, hobbit to the core, and Elijah laughed, but he was flushed and his eyes were sparkling. For a moment Sean thought Elijah might forget their surroundings and close the gap between them. Instead he faced the audience and started to tell them an anecdote about hobbit feet. Sean understood; it could wait. They had time, all the time in the world now.
His drifting days were over.
Driftwood
Everything is open
Nothing is set in stone
Rivers turn to oceans
Oceans tide you home
Home is where the heart is
But your heart had to roam
Drifting over bridges
Never to return
Watching bridges burn
You're driftwood floating underwater
Breaking into pieces, pieces, pieces
Just driftwood, hollow and of no use
Waterfalls will find you, bind you, grind you
Nobody is an island
Everyone had to go
Pillars turn to butter
Butterflying low
Low is where your heart is
But your heart has to grow
Drifting under bridges
Never with the flow
And you really didn't think it would happen
But it really is the end of the line
So I'm sorry that you've turned to driftwood
But you've been drifting for a long, long time
Everywhere there's trouble
Nowhere's safe to go
Pushes turn to shovels
Shovelling the snow
Frozen you have chosen
The path you wish to go
Drifting now forever
And forever more
Until you reach your shore
You're driftwood floating underwater
Breaking into pieces, pieces, pieces
Just driftwood, hollow and of no use
Waterfalls will find you, bind you, grind you
And you really didn't think it would happen
But it really is the end of the line
So I'm sorry that you've turned to driftwood
But you've been drifting for a long, long time
You've been drifting, for a long, long
Drifting for a long, long time